Water Damage Restoration Services in Boulder
Situated at the foothills of the Rocky Mountains is the beautiful city of Boulder. With sweeping views of the mountains and friendly neighbors, Boulder is a great location to buy a commercial or residential property in. Buying a home or retail storefront is an exciting new venture and can be a great investment for your future. But there are many responsibilities that come along with building ownership that can seem daunting. If your building falls victim to indoor flooding from a pipe burst or severe storm, it is your responsibility to clean and repair the damage in order to provide a safe environment for everyone who enters your building.
If you need help with your water woes, the water damage restoration experts at 911 Restoration of Boulder are here to provide you with assistance. Our team of licensed, bonded, and insured professionals are available 24/7/365 and provide same-day flood cleanup services. We will promptly arrive at your door within just 45 minutes of your first phone call and get to work right away.
Swift and Responsive Water Damage Restoration Services in Boulder
 Timing is everything when it comes to water damage. Within just a few hours, the water can start to wreak havoc on your home and prized possessions. It can stain your carpet and furnishings, warp your floorboards, and seep into your walls and underneath your floor. If water finds its way into unseen crevices and becomes stagnant, it will create the perfect haven for mold to grow and flourish, causing even more damage and troubles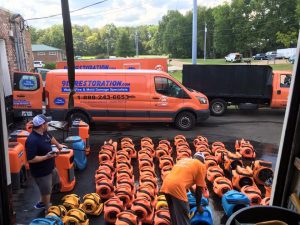 The water damage restoration experts at 911 Restoration of Boulder know that time is not on your side when it comes to flooding. This is why we perform same-day servicing and are accessible all day and all night. It is important that you do not try and handle any flood cleanup efforts by yourself. The water could be contaminated and extremely harmful to your health. It is best to leave the job up to the professionals. 911 Restoration of Boulder has the proper equipment and experience to safely and efficiently extract all droplets of water from your home or office building. We offer a free visual inspection to property owners only and will ensure that your commercial or residential building is safe, clean, and completely dry.
Have Mold? Call the Boulder Mold Removal Experts Today!
Flooding inside of your building can lead to excessive moisture in your indoor air. This will create a breeding ground for mold and bacteria to grow and thrive. If your building recently was afflicted with flooding, it is imperative that you call a mold inspection team right away.
Some signs that your property could be infested with mold include:
Discoloration on the Walls – Mold will show itself as green, brown, black, or yellow stains on your walls, ceiling, or floor.
A Foul Odor – If you notice a musty odor coming from a specific room or region in your house or retail store, you may have mold.
Sudden Sneezing or Coughing Fits – When mold spores are inhaled, they can cause numerous health complications including coughing, wheezing, sneezing, asthma and allergy symptoms, and chest tightness.
Symptoms of Mold Exposure? Call Us Now!
If you notice any of these mold symptoms, call our mold remediation team straight away. Whether it is day or night, 911 Restoration of Boulder will show up to your door within just 45 minutes of your first call to us.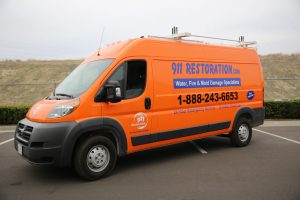 Not only do we have speedy mold decontamination services, we also are committed to offering you with amazing customer service. Our "fresh start" mentality to every mold removal job we do gives us the ability to completely focus on your needs. Having flooding and mold in your house is a scary and stressful time, and we are here to help you get through it and see the light at the end of the tunnel.
 We recently helped a local business owner get rid of mold in her store. Not only was 911 Restoration able to pinpoint the source of the mold and thoroughly extract every spore from the property, but we also provided comfort to our customer in her time of need.
 If you need fast and effective water damage restoration and mold remediation services, contact the pros at 911 Restoration of Boulder now!
Serving the communities of Arvada, Boulder, Broomfield, Denver, Lafayette, Louisville, Westminster, Wheat Ridge, and surrounding areas.