Disaster Restoration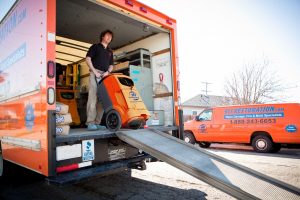 Your home or business represents a huge investment in your life. You can put years of work into getting your property exactly the way you want it to be, only for a disaster to sweep through and leave destruction in its wake. Fortunately, you can get your peace of mind back after a disaster by contacting the professionals at 911 Restoration of Boulder.
Our crew of experienced property restoration techs can offer you immediate assistance in the event of a disaster in Boulder, Denver, or Arvada. You can contact us any time of the day or night if you need emergency services. We can offer you:
Emergency Water Extraction
Emergency Storm Repairs
Emergency Boarding Up
Emergency Roof Repairs
Emergency Packing-Out and Storage of Your Possessions
Our techs can reach properties in Boulder, Arvada, and Denver within 45 minutes of an emergency call, so you don't have to wait to get the help you need. We know that there isn't a minute to spare during a disaster, so you can count on us to arrive prepared to handle a fire, flood, pipe burst, or sewage backup. The Boulder office is open 24/7/365 at 303-536-8768
We believe in offering comprehensive property restoration services after you experience a disaster. You can call us right now if you need assistance with:
Water Damage Restoration
Fire Damage Restoration
Mold Removal and Remediation
The techs at 911 Restoration of Boulder are trained to handle both commercial and residential property damage after an emergency. Get a Fresh Start after a disaster by calling us today.
Recovering from Water Damage After a Disaster in Boulder
Water damage is one of the more common types of property damage you can experience after a natural or manmade disaster. A broken plumbing pipe, heavy rains, or blizzards can all lead to water damage in the areas around Boulder, Arvada, and Denver.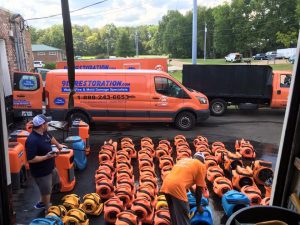 The water damage restoration techs at 911 Restoration of Boulder can help you handle any property damage caused by excess water. You can call us if you need help:
Extracting Water After a Basement Flood
Dehumidifying Your House after Heavy Rains
Repairing the Damage Caused by a Major Pipe Burst Emergency
Our techs can even help you deal with a sewage backup. Sewage backups can occur after heavy rains or if your plumbing malfunctions. A sewage spill disaster can impact your health as well as your property, as sewage contains dangerous contaminants that can make you sick on exposure.
Let water damage restoration specialists handle the damage caused by floods and plumbing failures. 911 Restoration of Boulder has the equipment to remove water, dry out your home, repair structural damage, and totally renovate your home or business in Boulder, Denver, or Arvada.
You shouldn't even be able to tell that a disaster occurred after the property restoration process is completed. Make sure you get the steadfast support you deserve by contacting 911 Restoration of Boulder today. We can return your property to better-than-new condition beginning today, so you can get a Fresh Start. Call us at 303-536-8768 and please allow us to offer you a free visual inspection.
Disaster Restoration Services after a Fire in Boulder
Flooding, storms, and plumbing issues are not the only causes of disasters in Boulder, Denver, and Arvada. You may also suffer serious property damage if your home or business falls victim to a fire. Fires can leave you dealing with smoke damage, ash damage, and water damage from attempts to put out the flames.
The complicated nature of fire damage restoration means that you should contact a professional disaster restoration company right away. The crew at 911 Restoration of Boulder can spring into action if you experience a fire in our service area. We understand exactly what it takes to:
Assess Structural Damage after a Fire
Remove Items and Furnishings Damaged by the Fire
Cleanup All Traces of Fire, Smoke, Soot, and Ash Damage
Remove Odors and Completely Restore Your Property
All of the technicians at 911 Restoration of Boulder are IICRC certified to handle all types of disaster restoration services. Technicians receive extensive training in the best ways to restore and repair homes and businesses in Boulder, Denver, and Arvada. You can trust our licensed, bonded, and insured technicians to put your peace of mind first as they complete the disaster restoration process.
You can recover from the effects of a property disaster. Return your home or business to the perfect condition that you deserve after a disaster by contacting 911 Restoration of Boulder immediately. Let us focus on renovating your property and offering you the Fresh Start you deserve as you move forward with your life. Please call us at 303-536-8768.