Water Damage Restoration Services in Denver
If you're seeking to plant roots in an exciting and scenic city, why not consider Denver, CO? Affectionately dubbed the "Mile-High City," Denver is a picturesque location for you to purchase a new residential or commercial building.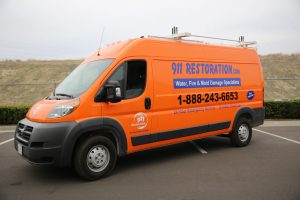 As the Boulder metropolitan area's premiere water damage restoration company, 911 Restoration is looking forward to offering you our seasoned expertise. As a new home or retail storefront owner in Denver, you need to keep your building in mint condition. If indoor flooding ever occurs, whether from a pipe burst, septic backup, or severe rainstorm, you need the reassurance of a prompt and professional flood cleanup company. Luckily, the team at 911 Restoration of Boulder offers a speedy 45-minute response time and 24/7/365 availability to immediately help you with your water woes

 Locally Owned and Operated Water Damage Restoration Company in Denver
Despite being a part of a nationwide franchise, 911 Restoration of Boulder is locally owned and operated. This means that we know the quickest way to get to your home or office building and draw from the best talent in the area.
Timing is everything when it comes to water damage restoration. As soon as we receive your first phone call, our team is packed up and ready to go. Our process is swift and efficient to ensure same day servicing. Within just hours of the initial flood, the water can begin to stain your carpet and furniture and warp your floorboards. Within 24 to 48 hours, mold and mildew will start to grow.
Water damage restoration is a job best left to the professionals. Depending upon where the flood water came from, the water inside of your commercial or residential building could be contaminated and full of bacteria. If this is the case, you could get very sick if exposed. This is why it is imperative to have an expert team of licensed, insured, and bonded professionals do the job.
911 Restoration of Boulder uses state-of-the-art equipment to thoroughly extract all droplets of water from your home or apartment complex. Some of the types of equipment we use include: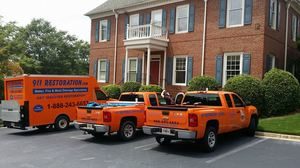 Air Movers – These portable drying machines quickly dry any surface soaked by flood water and provide air circulation for the entire space.

Dehumidifiers – These machines effectively remove excess moisture from the air, helping with the mold removal process.

Air Scrubbers – These tools are designed to remove odors and particles from the air. They are especially helpful to remove the musty odor that is associated with a mold outbreak during the mold remediation process.
If your residential or commercial building has been afflicted with indoor flooding, you need to call 911 Restoration of Boulder right away.
Swift and Supportive Mold Removal Services in Denver
 One of the problems with flooding is that it can cause damage that isn't necessarily visible. Water can find its way under your floors and behind your walls, becoming stagnant and creating a breeding ground for mold. Once your building is infested with this fungus, it will create brand new problems.
 While mold is helpful at breaking down dead and decaying matter outside, it can wreak havoc on your building and your health. When people breathe in mold spores, they can suffer from a wide array of different health problems, including sneezing, coughing, wheezing, asthma and allergy attacks, and chest tightness. Young children and the elderly are more susceptible to mold related health issues.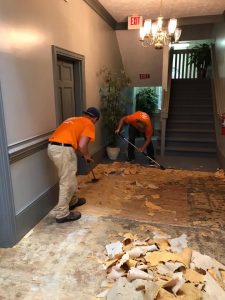 If your property needs quick mold decontamination services, call the mold inspection experts at 911 Restoration of Boulder. We will be at your doorstep in no time at all to get to work.
 Not only are our services swift, but they are supportive too. We understand that needing mold remediation services is a stressful and scary time. This is why we take a "fresh start" mentality to every job we perform. It allows us to put you at the center of our attention and to provide you with the best customer service experience possible. We'll thoroughly clean and dry your building to offer you a safe, mold-free environment. If you are in need of water damage restoration or mold removal services in Denver, call the local professionals at 911 Restoration of Boulder right away. We are happy to help you!
Serving the communities of Arvada, Boulder, Broomfield, Denver, Lafayette, Louisville, Westminster, Wheat Ridge, and surrounding areas.