Water Damage Restoration Services in Westminster
Located in the Boulder metropolitan area of Colorado, Westminster is an idyllic suburban town with a lot to offer. With a population of over 113,400 and close access to the bustling city of Boulder, Westminster makes a great location for you to purchase your next home or commercial property in. But what happens when you suffer water damage in Westminster, Colorado?
As a new building owner in Westminster, you will be faced with many responsibilities. Not only do you need to keep your residential or commercial building looking its best, but you also need to ensure that it is safe and secure for all who enter. This can be difficult to do when so many disasters can strike, including indoor flooding. Whatever the source of the flood may be, from a pipe burst or septic backup to a bad thunderstorm or severe snow, you will need immediate water damage restoration services to help clean up the mess and keep further costly damages at bay. Thankfully, 911 Restoration of Boulder provides fast and efficient flood cleanup services to Westminster residents. With a quick response time of under an hour and 24/7/365 availability, our licensed, insured, and bonded team offers same day servicing to help promptly dry and clean your building.
Local Water Damage Restoration Services with Nationwide Support
 While 911 Restoration of Boulder is a locally owned and operated franchise, we are a part of a nationwide network of water damage restoration experts. This enables us to arrive at your location within just 45 minutes of your first call to us. We proudly serve the entire Boulder metropolitan area and draw from the best local talent around.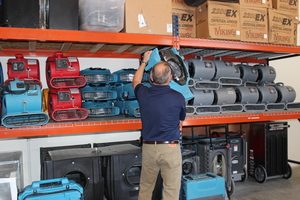 When flooding strikes, it is critical to get to work right away. Flood water damage waits for no one in Westminster, Colorado. Within a couple of hours, the water will start to stain your carpet and furniture. And within just a day or two, the excess moisture will lead to the growth of mold. 911 Restoration understands that timing is everything when it comes to water damage. This is why our crew is ready to go at any time of day or night. No matter how large or small the scope of the job might be, we will work tirelessly to make sure every droplet of water is removed from the premises.
We also are passionate about offering supportive and high-quality customer service to everyone we work with. 911 Restoration of Boulder understands how troubling this time is for you. This is why we take a "fresh start" mentality to every water damage restoration job that we perform. This allows us to offer you the support and sympathy you need and deserve during this trying time. 911 Restoration will help you to see the light at the end of the tunnel and to enter into a brand new chapter of your life.
If you need swift water damage restoration services with a sympathetic touch, call us now!
Reliable Mold Removal Services in Your Area
As we mentioned earlier, the moisture left in your indoor air from flooding can create a breeding ground for mold colonies to thrive. Once mold has started to grow in your home or retail storefront property, it can quickly travel to other rooms through spores released into the air. This is why immediate mold remediation services are necessary to contain and mold before it becomes an even bigger issue.
The mold decontamination professionals at 911 Restoration of Boulder are only a phone call away. If you notice a musty odor in your home, see staining occurring on your floor, ceiling, or walls, or have sudden coughing or sneezing fits, mold may be to blame.
Our mold inspection team will do a thorough walkthrough of your building and pinpoint the exact location of the mold. We will then get to work to remove all traces of mold from your establishment.
It is important to never perform mold removal by yourself. You may want to save money by not hiring a professional, but you could exacerbate the problem. Also, mold is very harmful to come into contact with. 911 Restoration of Boulder has the proper safety equipment to securely get the job done.
If you need immediate water damage restoration or mold removal services, contact us today!
Serving the communities of Arvada, Boulder, Broomfield, Denver, Lafayette, Louisville, Westminster, Wheat Ridge, and surrounding areas.