Mold Removal in Boulder
Are you worried about a mold infestation in your home or business? You may discover mold growth if you notice strange discoloration on your walls or carpet. A foul smell in your home or business could also indicate that you are dealing with a fungal infestation. These symptoms are often the only signs property owners get that they are dealing with a much larger mold problem.
You can get a better idea about what you are dealing with by contacting a company that specializes in mold removal in Boulder. The professionals at 911 Restoration of Boulder have years of experience handling commercial and residential mold remediation in Boulder, Denver, and Arvada.
You do not have to wait to get help if you suspect you are dealing with a mold infestation. The mold decontamination techs at 911 Restoration of Boulder are on call 24/7/365 at 303-536-8768. We are a locally owned and operated company with techs that can reach your home or business within 45 minutes of an emergency call.
Upon reaching your home or business, we can:
Complete a Free Visual Mold Inspection for Property Owners Only
Begin Building a Mold Remediation Plan for You
Focus on Mold Decontamination to Protect Your Health
Handle Mold Cleanup and the Removal of Mold Infested Items
Getting help right away can prevent mold from spreading further in your home or business. Remember that visible mold is often an indication that there is a larger mold infestation hidden behind your walls or under your floors. Let the professionals remove all signs of mold from your property so you can get a Fresh Start today. call us 303-536-8768.
What Causes Mold Infestations in Boulder?
Mold is a fungus that occurs naturally in the world around us. You might find some mold growing on a loaf of old bread, or on old leaves outside. In these cases, mold is not much of a problem. However, mold can be a big problem if it manages to infiltrate your home or business in Boulder, Arvada, or Denver.
You may be at risk for a mold infestation if you experience water damage caused by a flood, leaking pipes, or a sewage backup. You can handle these events by contacting a water damage restoration company right here in Boulder. The water damage restoration techs at 911 Restoration of Boulder can quickly remove water from your property.
During the water damage restoration process, we can check for signs of mold growth in your home or business with a mold inspection. Quickly drying and dehumidifying your property can reduce the odds that mold will gain a foothold in your property.
Mold may also grow if moisture enters your property through other means. Sometimes, moisture can creep into basements, especially as your property grows older. 911 Restoration of Boulder can seek out mold and take care of mold remediation regardless of how the fungus entered your property. Let us carry out a mold inspection to determine the best methods for handling most removal in Boulder, Arvada, or Denver. call 911 Restoration of Boulder at our number 303-536-8768
You deserve the best when it comes to mold cleanup services. Get the help you need today by calling 911 Restoration of Boulder.
How Does Mold Removal in Boulder Work?
So, you've had a mold inspection and the techs have discovered mold in your property. You might be asking yourself: what next? It is normal to wonder what the mold remediation process will mean for you. You can expect our IICRC certified mold removal techs in Boulder to:
Focus on Halting the Spread of Mold with Air Filters
Isolate Mold Infested Areas with Professional Equipment
Remove Items Infested with Mold for Cleanup
Handle Mold Decontamination in Your Home or Business
Take Care of Mold Cleanup and Odor Removal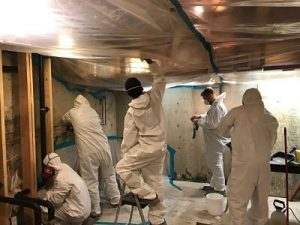 Mold remediation can be a complicated process, depending on the size of your mold infestation. We will work to decontaminate any of your possessions that show signs of mold growth. Some items may need to be disposed of it they cannot be properly decontaminated.
You should be aware that some forms of mold may cause allergic reactions. There are even some strains of mold that can be toxic if you are exposed to them. You can rely on us to handle toxic black molds quickly and thoroughly. Your health and well-being are important to us and our techs will work aggressively to beat back any signs of mold in your home or business. Please call us at 303-536-8768
You deserve dedicated help handling a mold infestation in Boulder, Denver, or Arvada. Call the pros at 911 Restoration of Boulder so your property can quickly be returned to perfect condition after you spot even the smallest sign of mold growth.
Serving the communities of Arvada, Boulder, Broomfield, Denver, Lafayette, Louisville, Westminster, Wheat Ridge and surrounding areas.